Laura DeLuca
Instructor, Anthropology
Global Seminar: Conservation and Indigenous Peoples in Tanzania (Arusha, Tanzania)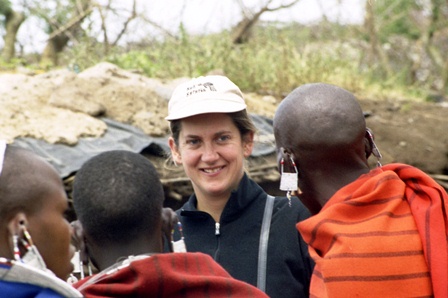 What is your international experience?
In 2000, I spent a year in the Serengeti region of Tanzania studying conservation and Globalization as it played out in Maasai villages. My research was supported by the National Science Foundation and Fulbright Hays Doctoral Dissertation Abroad. I have also had a Fulbright Specialist Program grant in 2011-12 to work on a Peace Building project in South Africa.
In Rumbek, Sudan I attended the Sudan Field school only a few months after the Comprehensive Peace treaty was signed ending decades of civil war; there were still live land mines in the areas we visited.
I have worked as a Program Leader for Operation Crossroads Africa in Lodwar, Kisumu and Watamu Kenya. In Watamu, I led a group of 9 women on a community development project in a village that was 95% Muslim and most of the women wore Bui Bui or full veils.
My first cross cultural experience in East Africa was as a Peace Corps teacher in a Luo-speaking village overlooking Lake Nyanza (called Lake Victoria in the colonial era).
Why should Anthropology/ Environmental Studies/ International Affairs majors study abroad?
I like the travel quote from St. Augustine: "The world is a book and those who do not travel read only one page." Since anthropology is a field-based social science it is absolutely critical to get the opportunity for field immersion not only because this makes you a more competitive candidate for top grad schools and scholarships but just as importantly because it is an important method for learning.
What is your favorite Tanzanian food?
My favorite Tanzanian foods are ugali and Nyama ya kuchoma. Ugali is like a stiff polenta. You grab a piece with your right hand (after properly washing it) and then fashion the cornmeal into a utensil of sorts and use it to scoop up meat or veggies. It is very filling and I prefer the kind with a bit of millet mixed in so it is brown rather than the usual yellow or white.
I also really like nyama ya choma, which is roasted beef sometimes served with a type of onion and tomato salsa known as Kachumbari and often with a roasted plaintain on the side, but it can also be served plain. When I lived in Tanzania, My research assistant, Gabriel Ole Saitoti was an expert at ordering the choicest pieces of beef and of course Maasai beef was organic, grassfed, freerange and ethically produced way before this became a fashion.
Why is Tanzania such a good place to study this topic?
Tanzania is the ideal place to study conservation and globalization and its effect on indigenous communities such as the Maasai and Hadzabe people partly because wildlife conservation has a huge impact there. Nearly one quarter of Tanzania's land is in some type of protected status—either national park or game reserve etc. Finally, Tanzania is also a stunningly beautiful country that is one of the most peaceful African countries partly thanks to the legacy of Julius Nyerere, who reduced ethnic tension by choosing Swahili as a unifying language.
What aspect of this summer's trip are you looking forward to the most?
I am excited for the full immersion and the ability to focus entirely on the students and the course without the usual university distractions and family responsibilities. I am also thrilled about taking a technology fast—we are not bringing computers but instead will rely on old-fashioned journals and reading packets. I am also looking forward to working with the remote communities that Dorobo, our Tanzanian operator, has developed long-term relationships with and of course seeing hippos, rhinos, giraffe, wildebeest and my favorite, hyenas.