Click here to Login
Programs

Brochure
This page is the brochure for your selected program. You can view the provided information for this program on this page and click on the available buttons for additional options.
Music & Performing Arts Program: Renaissance in the XXI Century (Florence, Italy) (summer)
Florence, Italy
(Outgoing Program)
Term

Year

App Deadline

App Review Begins

Start Date

End Date

Summer

2016

01-MAR-2016 **

Variable

16-MAY-2016

25-JUN-2016

Summer

2017

01-MAR-2017 **

Variable

20-MAY-2017

01-JUL-2017


** Most programs' applications are reviewed on a rolling basis (starting August 1st for Spring programs and January 15th for Summer and Fall programs). NOTE: Some programs start the admissions process earlier and fill before the deadline, and some programs' applications aren't reviewed until after the deadline. Check with Education Abroad staff for details.

Indicates that deadline has passed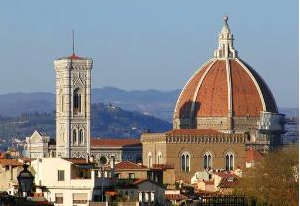 Performance Studies in Violin, Viola, Cello, Guitar, and Piano (however, all instruments and voice will be considered)

Elective course in Music History of the Renaissance

Optional (NO CREDIT) course: "Italian for the Musician"
CU and Italian instructors; all courses in English

Lessons, chamber music, and performances in Florence and at the Alba Music Festival in Piemonte!

Make the Renaissance city of Florence your home for 6 weeks! Most weekends free for travel in Italy.

Click here to visit the Florentia Consort website with additional information, including course details, audition requirements and more.
Florence is the capital city of the Italian region of Tuscany. It is the most populous city in Tuscany, with 367,569 inhabitants (1,500,000 in the metropolitan area). The city lies on the River Arno and is known for its history and its importance in the Middle Ages and in the Renaissance, especially for its art and architecture. A center of medieval European trade and finance and one of the richest and wealthiest cities of the time, Florence is considered the birthplace of the Italian Renaissance.
The city boasts a wide range of collections of art, especially those held in the Pitti Palace and the Uffizi. Florence is arguably the last preserved Renaissance city in the world and is regarded by many as the art capital of Italy. It has been the birthplace or chosen home of many notable historical figures, such as Leonardo Da Vinci and many more.
In Florence, you will be living in double occupancy rooms in shared student apartments, located throughout the city. In addition to the rent charge, electricity, water and wifi internet service are included in the program fee. Housing will be arranged for you and ready upon your arrival.
You will be responsible for making your own travel arrangements to Italy and back. The program officially begins in and ends in Florence. All transportation to required program activities and field trips within Italy is included.
The Music and Performing Arts Program, "Renaissance in the XXI Century," is an intensive 6-week, 6-credit summer Study Abroad course in Florence, Italy, the birthplace of the Renaissance.
The goal of the program is to convey the spirit and the "energy" of the Renaissance. You will enhance your artistic skills through a pre-professional experience both in class and by performing in Italian historical venues.
Our 6-credit study abroad program aims at enabling young artists to hone their artistic skills and creative energy by living and performing both in Florence (universally acknowledged as the cradle of modernity) and other Italian venues.
All courses will be taught in English by local and visiting faculty/artists, with other U.S. students as classmates.
Students will take the performance studies course (for violin, viola, cello, guitar, and piano - although all instruments will be considered) and Music History of the Renaissance, for a total of 6 credits. An optional Italian course, "Italian for the Musician", is availalbe for no (0) credit.
The program is six weeks long, and will take place from mid-May to late June. Attendance is required for the entire six-week period. Classes are held from Monday-Thursday each week.
Renaissance Florence program
University of Colorado
Course Levels

100- and 200-level courses

lower-division

300- and 400-level courses

upper-division

Credit

6 credits
Program Director: Antonio Artese (antonioartese@gmail.com) & Music Director and CU Professor: Charles Wetherbee (Charles.Wetherbee@Colorado.edu).
Local excursions will be provided. A staff member, liaison to the students, coordinates all student activities. You will also receive a museum card that will provide you with free entrance to many museums and landmarks in Florence.
Non-CU students should go directly to the Florentia Consort Website to apply.
All students will also be asked to fill out the Florentia Consort Application.
You can access the application here.
Application deadline: March 1st
$250 discount if application is begun by February 1st.
Audition requirements for the program: Send a video/audio link of your playing to Professor Charles Wetherbee at Charles.Wetherbee@Colorado.edu.
PLEASE NOTE: Audition repertoire should represent 2-3 contrasting styles; total no more than 15 minutes.
Summer 2015 Participant
Courses- The Courses that are offered with this program were very interactive. In our History class and Italian class we were able to go around Florence and go to museums or order coffee. It was a very hands on learning process which was so fun to do. Location- The location that we were located was literally a block from the Duomo. We were in the middle of this incredible city, and we got to experience living in Italy as a musician. Interactions with locals- Don't be too worried about your Italian because everyone speaks english, but advise you to learn basic italian so you can at least try and converse with locals in the vernacular. Excursions- On the weekends that you are free you can go where ever you want. You can take a train to the beach or even go out of the country!
Alice Diana Sprinkle, Summer 2015 Participant
The courses we took were really cool! The chamber music was fun, and so was Italian, but my favorite course was Music History. We got to go on field trips to several museums and historic locations around Florence to learn about the Renaissance. Our teacher was also excellent. Florence is a wonderful city! Although there are a lot of tourists, it wasn't hard to escape the busy city center and find peace and quiet. We all got to live in an apartment together, just down the street from the Duomo, which was super convenient. We got to interact with locals every day, whether it was in a market or in a cafe. We became really good friends with the owner of a cafe just down the street from Diocesano, where we took class. Since we had three day weekends, we got to go on lots of little weekend trips. I went to Sienna one week, Rome another, and then we all went to Alba to perform before hiking the Cinque Terre. It was so fun to see more of Italy than just Florence, even though Florence is really neat.
Summer 2013 Participant
My music history class was incredibly intimate and informative. Our lecturer was enthusiastic and took us on amazing field trips around Florence and even Bologna! Florence was the best location I could have imagined to immerse myself in music and culture. Unfortunately, I did not meet many local Italian people, which was one thing I did not expect. You can practically walk almost anywhere in Florence, but I'm sure it wouldn't be hard to figure out the bus system. I didn't get to travel outside of Florence as much as I wanted because it was incredibly expensive, but I was able to take some day trips to places nearby, which I enjoyed very much.
Callie Janet Brennan, Summer 2014 Participant
The Music History course offered was both thorough and enjoyable, the professor was wonderful and did a great job of relating music and its various styles of the art that we studied. Classes consisted of lectures and also field trips to museums, churches, and other landmarks around the city, so I didn't feel like we were constantly stuck in a classroom while being in one of the most beautiful cities in Europe. Classes, rehearsals, and the apartment were located in the center of town, Florence is an extremely busy city so sometimes I felt claustrophobic and just wanted some quiet, but that's just what you get with living in a city like Firenze. Interactions with locals took some time to get used to, many speak pretty good English however knowing very little Italian myself, I got very good at using charades to communicate. The people are very friendly and do their very best to be helpful.
Summer 2015 Participant
The courses on this program were absolutely amazing. All the teachers and professors were very dedicated and knowledgeable. The location was very relevant to the courses and ideas of the program which made the courses more fun. Being in such a tourist town, the locals were a little harder to get aquainted with, but they are very nice. We did go on excursions and these were some of my favorites parts of the program. During these trips, we would usually meet more local people.
Read All reviews of this program